Mangoes
By:Rainer Hörig
---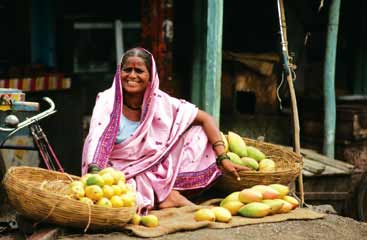 Since fifteen years I have been living with my Indian family in Pune. I study Indian philosophy and religions, my wife has introduced me into the secrets of Indian cooking, I get along with everyday affairs in Hindi. I take pride in my friends' telling me jokingly that I have become an Indian. But one thing that I can still not cope with is the summer heat. At the time when the sun transforms the land into a furnace, when even the toughest street-dog is seeking shade and rest, my thoughts give up and it is impossible to complete any work. Combining need with advantage I usually take off for a two-month stay in Germany to meet with relatives and friends, to feel the pulse of the people and to start new media projects.
But India wouldn't be India, if it would not provide for everything its opposite, if for every pain there would not be a consolation as well. The gruesome summer delivers reprieve in the form of sweet and luscious Mangoes. Green, yellow and reddish, longish fruits, which can make one forget the heat for a moment. Juicy, golden-yellow pulp glistens beneath the fine skin, soft and creamy as a banana. In India, the Mango is called the "King of Fruits".
Recently Mangoes have reached European markets as well, mostly African and South-American varieties. `They unfortunately do not _ even externally _ stand comparison with their Indian ancestor. The mango-tree originated in India and Burma and has been cultivated here since 4000 years. Hindu legends revere it as a tree that fulfils all wishes, a symbol of love and veneration. Mango-festivals and Mango-exhibitions are proof of India's love for Mangoes.
Last May my land-lord called up from Ratnagiri, a coastal town to the South of Mumbai, famous for its delicious Alphonso Mangoes. He proudly announced that he had despatched a crate of the same to me. He had put them on a bus to Pune that morning and I should collect them from the respective travel-agency so-and-so. I thanked him politely and wringed my hands. Something told me that this sweet little gift would cost me half a day's work and a lot of trouble.
It took me a few telephone calls to find the address of the Mango travel-agency. Headlong I plunged into the rush-hour traffic of Pune city: heavy smoke from thousands of exhaust pipes, jams at every corner, non-stop honking. Asking different people for directions I finally found myself in front of a small shed, with dozens of crates full of mangoes piled up in front of it. I put on my most friendly smile and requested a lady in conductor's uniform to hand me my crate of mangoes from Ratnagiri. It took her half an hour to trace the freight-papers and identify my box. Finally she asked me to pay for the transport. I was nearly losing my nerve.
On my drive back home, the city seemed to be flooded with mangoes. I saw juicy mangoes being sold on every street-corner, and here I was proudly driving my Ratnagiri Mangoes halfway across the city. I simply cursed my luck. Back at home my wife, Rajashree, tried to placate me. She explained to me how much joy one feels in this country by gifting mangoes. My joy was however limited. A lively debate ensued, at the end of which we decided it was time we made ourselves happy _ namely by distributing the entire box of sugar-sweet mangoes from Ratnagiri amongst our best friends.