Dedicated to showing India to the world: German Journalist Rainer Hörig
Sixty-year old Rainer Hörig's story began in a very different India. In 1989, when the freelance journalist and anthropologist came to Pune from Germany during his third trip, he fell in love with the culture and "historical richness" of the country. "Back then, there wasn't much interest or awareness about the country, and I wanted to show India to the world," Hörig explained. Over the 27 years that he has been living in India, Hörig has documented important news events such as the 2014 Indian elections and environmental movements like the Chipko Andolan and the Narmada Bachao Andolan; He has also written features on India's festivals, people and wildlife. "A lot has changed since 1989 in terms of culture and economy. The technology has advanced, the people are more educated, even the cityscapes have changed over the years," said Hörig, who is married to Rajashree Tirumalai, an Indian citizen. Even Pune, his new hometown, has changed before his eyes—from being a "pensioners' paradise" to an emerging industrial city and the ninth most populous city in India.
On 5th February 2016, the Indian Council for Cultural Relations in New Delhi conferred the 2014 Gisela Bonn Award on Hörig for his efforts towards promoting Indo-German relations. Pooja Chaturvedi from the German Embassy New Delhi spoke with the journalist about the award and his life in India.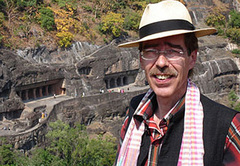 Enlarge image Rainer Hörig (© Rainer Hörig)
What does the award mean to you?
The award is very special to me and gives me immense encouragement for my work. What makes it more important is that it comes from a country where I decided to live in and call it my home. In Germany critical appreciation is something that you need to cultivate for life. If the government of India has appreciated me and my work, it makes me extremely proud and I would like to continue showcasing India and its culture through my stories and photographs. There are still so many stories to tell!
You have been an observer of India's society, politics and culture for a long time. What made you come to India in the first place?
My first journey to India was in 1977. I then came to India in 1984 for a postgraduate field study that was sponsored by the ASA Programme of the erstwhile Carl Duisberg Gesellschaft. It was in 1989 that I met my wife Rajashree, who was teaching the German language at the Goethe-Institut in Pune, and we decided to get married. That's when I moved to India. Ever since, I have travelled across the country to bring out stories of ordinary Indians and the issues that move them, their joys and sorrows. The whole experience has been like a roller coaster, and I have learnt so much, including a little bit of Hindi from my wife.
Being a journalist in a foreign country must be difficult?
Not really. Since the beginning, Indian hospitality and genuineness have been bestowed upon me. In fact, when I started reporting, India wasn't in the global spotlight, like it is now. People knew very little about the country. But in Germany, there has been an interest in India since ages. Indology was—and still is—an important subject in my country. However, back then there were very few foreign journalists reporting from India and its remote corners, and getting my stories through to the foreign media was slightly difficult.
Now, as India has become one of the most important economies of the world and has the world's attention, the task has become much easier. I have been doing this job since decades and will continue to do so. India has been an open and tolerant society, which has accepted me without any prejudices.
What are some of the memorable stories that you have done on India?
Being born and brought up in Bonn, I was always close to the river Rhine. Hence, one of the most memorable stories I did was on the Narmada River. I also did other stories on Indian rivers. It was fascinating and made me feel closer to home. I also enjoyed doing stories on Indian festivals and celebrations, including the Kumbh Mela and Ganesh Chaturthi.
What commonalities have you observed between the Indian and German culture?
The two cultures are vastly different, but coming from Germany and now living in India, I observed that there is a mutual admiration between the two countries and cultures. Like I said, India has always been of keen interest to German people, and here in India, Germany, with its autobahns and engineering skills, is considered a fascinating country. If you ask about my role, I am just trying to cement the relationship between the two countries.
© German Embassy New Delhi