Home is where the heart is

Nupur Chaudhuri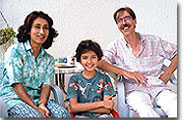 Pune, May 6: Still recuperating from the road accident he met with on Tilak Road, he coolly shrugs it off, ''It had to happen one day. I've escaped Pune traffic for so long!'' With his almost Indian accent, shudh Hindi and a vast knowledge of the country he's made his home, one would hardly think Rainer Hoerig, a German journalist, to be a foreigner. He as puts it, ''I've lived here for 15 years and I've never wanted to go back!''

His relation with India began way back in 1977 when he was just 19. Travelling from Delhi to Kerala, Mumbai to Varanasi, his fascination for the country grew and brought him back several times, either to quell his curiosity or on work as a budding journalist.

''In 1988, I knew that Pune would become my hometown. I was visiting Max Mueller Bhavan on a research project that dwelt on notions young Indians had about Germany. During the course of my work, I met and fell in love with my wife Rajashree who was working there. We married a year later and as destiny would have it, I've been in Pune ever since,'' reveals Hoerig.
Hoerig could talk about the city forever. ''The quality of life is so good here. It's an advanced city with its ethical values intact. I've never felt like an outsider here.'' Living in Aundh, he continues, ''Once a week I go to the other areas of the city and when I do, I quite like to pick up the German bread at German bakery. It's truly German and reminds me of food in Germany!'' Speaking of food, he has well adjusted to the spicy Indian curries and kebabs. ''The food here has so many varieties but I do miss my mother's cooking at times,'' says he.
Of course, somethings are still difficult for Hoerig, like the summer heat. ''Come summer and I rush off to Germany for a holiday! But, keeping that aside, Pune's people have captured my heart. They are more social, more religious; in Germany it's a very fast life,'' he says.
Hoerig's main work is with a German radio station, he adds, ''In their cultural shows, my work and writings on India are featured.''
Work aside, Hoerig loves being with his family. With a 12-year old daughter Vanessa, he smiles proudly, ''She speaks fluent German as well as English and Hindi. She has values of both countries and hopefully, she will grow up to love India just as much as I do.''